Overview of Omega XL
In this review of the Omega XL supplement, Our team carefully evaluated the Omega XL's ingredients, dosage, effectiveness, and potential side effects. We have included a thorough review of the advantages and disadvantages of the Omega XL based on our study. So, let's have a look at Omega XL's review be with us till the end.
What is Omega XL?
Omega XL is a Dietary supplement well-known for its ability to reduce inflammation. It includes a mixture of omega-3 fatty acids derived from the green-lipped mussel oil of New Zealand. These fatty acids contain a lot of positive health benefits required by the human body.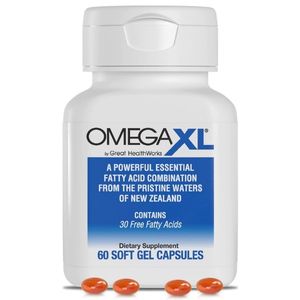 Editor's Rating
Buy on AmazonBuy on Walmart*All the prices mentioned on their websites are subject to change.
Sefety

3.5/5

Pricing

3.5/5

Ingredients

3.5/5

Non Gmo

3.5/5
Naturally promote joint health
Alleviate joint pain
Improves the cholesterol levels
Improves heart health
Strengthens the immune system
Omega XL has been promoted as a natural substitute for conventional anti-inflammatory medications, with the added advantage of not having the unfavorable side effects sometimes connected with those medications. The advantages of Omega XL, its components, and how it differs from conventional anti-inflammatory medications will all be covered in this article.
TIP – We've been spending a lot of time trying and evaluating various health-related supplements, and ProJoint Plus has impressed us.
Specs
Form:

Softgels

Price:

$44.09

Brand:

Great HealthWorks

Name:

Omega XL

Ingredients:

Green Lipped Mussle, Vitamin E, Omega 3 Fatty Acids.

Contact:

(800) 488-8082

UnitCount:

60 Softgels

Serving Size:

2 Softgels
What Company Makes Omega XL
Omega XL is manufactured by the Great HealthWorks, Inc., a business with headquarters in Fort Lauderdale, Florida, is the firm that makes Omega XL. Ken Meares established the business in 2003, and it focuses on creating and selling dietary supplements and other goods for health and well-being. Omega XL is offered directly to consumers by Great HealthWorks, Inc. through its website, as well as through a variety of retail locations and other distribution methods.
Does Omega XL Work?
Well, it is a very obvious question, isn't it? Many people have this common question roaming around their mind "Does Omega XL Work?" it is pretty complicated to answer and also it can't be answered simply, lets's evaluate the benefits of omega xl and how does it work?
Omega XL contains a compound named PCSO-524, which is said to be extracted from the green-lipped mussel harvested in New Zealand. According to research published in the US National Library of Medicine National Institutes of Health, PCSO-524 is basically composed of multiple fatty acids that are believed to work together to relieve joint pain and inflammation. This is done through the lipoxygenase (LOX) and cyclooxygenase (COX) pathways[1].
Depending on the person and their health situation, Omega XL's efficacy may change. A combination of omega-3 fatty acids, which are included in Omega XL, have been proven to have anti-inflammatory qualities and to have a number of positive health effects. To completely comprehend the degree of its efficacy for particular health issues, additional study is necessary.
Omega XL Ingredients – Are they Safe & Effective?
When looking at Omega XL reviews, it is important to scrutinize the ingredients within its formula.
OmegaXL contains a proprietary oil extract from the New Zealand green-lipped mussel, pharmaceutical-grade olive oil, and vitamin E.
Green-Lipped Mussel Extract (PCSO-524)
– The green-lipped mussel (Perna canaliculus) found in New Zealand is the source of the green-lipped mussel extract (PCSO-524). Due to its high content of omega-3 fatty acids, which are known to have anti-inflammatory qualities and may improve joint health, PCSO-524 is a component of Omega XL.
A unique procedure that comprises freeze-drying the mussel meat and solvent-free oil extraction is utilized to create the green-lipped mussel extract used in Omega XL. This keeps the extract's nutritional content intact and guarantees its efficacy and purity.
Studies have reported that oral supplementation with green-lipped mussel extract significantly reduced pain in knee OA, as well as reduced joint tenderness and stiffness, and improving pain and mobility in those with rheumatoid arthritis[2].
Omega Fatty Acids
– In addition to some plant-based meals like flaxseeds and chia seeds, omega-3 fatty acids are a form of polyunsaturated fat that is often found in fish. They are believed to enhance joint health, heart health, and brain and brain function due to their anti-inflammatory qualities.
Eicosapentaenoic acid (EPA) and docosahexaenoic acid (DHA), which are frequently found in fish oil supplements, are among the special combination of omega-3 fatty acids included in Omega XL. However, Omega XL also includes other kinds of omega-3s, including OTA (octadecatetraenoic acid) and ETA (eicosatetraenoic acid), which are obtained from the PCSO-524 green-lipped mussel extract.
Numerous clinical studies have shown that omega-3 fatty acids can be beneficial in reducing joint pain[3].
Virgin Olive Oil
– Several studies and clinical trials have been conducted to investigate the potential benefits of virgin olive oil for treating joint pain[4].
Vitamin E
– Clinical studies have shown that Vitamin E can be used to help alleviate joint pain associated with osteoarthritis[5].
Pros and Cons of Omega XL
Pros
Omega-3 for potential health benefits.
Supports joint health and reduces inflammation.
No fishy aftertaste.
Convenient soft gel capsules.
Cons
Limited scientific evidence.
Relatively expensive.
Individual variations in effectiveness.
Potential shellfish allergy.
NOTE* – If you are looking for the best joint supplements that are high quality as well as research-based ingredients, then in our opinion, you should try ProJoint Plus; it is the best joint supplement for sale right now.
Omega XL Health Benefits
Supports Heart Health: Omega XL Reduces blood pressure, inflammation, and lipid levels to support heart health.
Reduces Joint Pain and Inflammation: This supplement likewise reduces joint discomfort and inflammation, which is very advantageous for arthritis patients.
Promotes Brain Health: Increases cognitive function, supports brain health, and may lower the incidence of cognitive decline.
Improves Eye Health: Protects against age-related macular degeneration and dry eye disease while enhancing eye health.
Supports Skin Health: Reduces inflammation in skin diseases including eczema and psoriasis and supports healthy skin by keeping moisture.
Product Comparison
To help you decide, whether Omega XL is the perfect Omega 3 supplement for your joint pain or other supplements better than Omega XL.
| Table of Content | Relief Factor | Omega XL | Frezzor Omega-3 |
| --- | --- | --- | --- |
| Image | | | |
| Rating | 4.9 / 5.0 | 3.9 / 5.0 | 3.7 / 5.0 |
| Price | $19.95 | $48.99 | $45.59 |
| Certification | Non GMO/GMP Certified | IFOS/GMP Certified | IFOS/GMP Certified |
| Return Policy | 100% Money Back | 60 Days | 90 Days |
| Brand Name | Releif Factor | Great Healthworks | Frezzor Inc. |
| Dosage | 4 Capsules/Softgels | 2 Softgels | 2 Tablets |
| Third Party Tested | Yes | Yes | No |
| Buy On | Read More | Buy Now | Read More |
As you can see after comparing the above supplements containing the same qualities as each other, we can see Relief factor is a bit ahead of other omega-3 supplements, in the field of Joint Health.
What Are The Side Effects of Omega Xl?
Omega XL side effects may cause nausea, headaches, allergic reactions, and blood thinning in certain people. The duration of side effects might vary from individual to individual, and not everyone will experience them. Stop using omega XL and see your doctor if you have any adverse reactions. If you are having any other problems after using this product can go to the omega xl reviews complaints section by going on its website.
Omega XL FAQ's
Q: What Is the Dosage of Omega XL?
A. We suggest four gel capsules daily for the first eight weeks, preferably with a meal. All four may be taken at once, or two in the morning and two at night whatever works best for you. Take a large glass of water and with food, if possible. It can, however, be taken in other ways if directed by a physician.
Product Disclaimer – The statements made on our websites have not been evaluated by the FDA (U.S. Food & Drug Administration). These products are not intended to diagnose, treat, cure, or prevent any disease.
Q: Does it cause fishy burps after taking them?
A. It Depends. The fishy burp is almost unnoticeable if you take it with a meal. If you take it on an empty stomach, you will have fishy burps.
Q:How Long Does It Take for Omega Xl to Work?
A.According to the manufacturer, Omega XL may take two to three weeks for you to start noticing an improvement in your health after taking it. However, results may vary depending on the individual's health and lifestyle.
Q: Is Omega XL Good for Your Heart?
A. Studies showed little or no effect of long-chain omega-3 fats on cardiovascular health. It is perfect for brain cells and makes your skin shine.
Q: Does OmegaXL Help With Arthritis?
A. They might help in the treatment of rheumatoid arthritis. Omega-3 fatty acids have been proven in clinical investigations to have a modulatory influence on disease activity, namely the amount of swollen and sore joints. Omega-3 fatty acids appear to reduce disease activity in rheumatoid arthritis potentially.
Q: How Many Milligrams of Omega 3 Per Capsule in Omega Xl?
A. OmegaXL is an oil extract from the New Zealand green-lipped mussel. Each capsule contains (12 mg EPA) and (7 mg DHA) in a primarily free fatty acid form. Each capsule consists of 150mg of the proprietary blend.
Q: Is Omega XL a Scam?
A. No, Omega XL is not a scam. It is a trustworthy product with years of research behind it, despite the research not being available on the official website. The company behind this product has been rated "A" by BBB(Better Business Bureau), and anyone can safely consume it without any harmful side effects.
Q: Is Omega Xl Safe If You Have a Bad Kidney?
A. If you have a bad kidney, it is best to introduce any new supplement into your diet under the supervision of a healthcare provider.
Q: Will Omega Xl Help Me with My Stiff Back?
A. The unique marine oil extract is known as "PCSO-524" and is the key ingredient in "OmegaXL" that offers remarkable results. If you're suffering from back pain, try OmegaXL today, and feel the benefits yourself.
Q: Is Omega XL Shellfish-free?
A. No, Mussels are shellfish. Therefore, each capsule consists of 150mg of the proprietary blend. The blend consists of Green Shell Mussel oil extract, Olive oil, and d-alpha-Tocopherol (Vitamin E) as an anti-oxidant for the oil; it is not a sufficient source of vitamin E.
Q: How Many Pills Come in This Bottle?
A. A bottle of Omega XL contains 60 soft gel capsules.
Q:What Is The Omega XL Phone Number?
A. 800-488-8082 is the phone number and contact number of Omega XL given by Omega XL's official website.
Q:Does Omega XL Help with Inflammation?
A. Omega XL contains some significant ingredients like EPA and DHA, Omega 3 fatty acids which are known to reduce inflammation in muscles and joints.
Q: How Long After Purchase Can I Return Omegaxl?
A. If you are not satisfied with your current purchase, simply cancel your order within 60 days of the date of your first purchase and return the unused portion of the product, including the empty bottles, after that within 30 days of the cancellation date to receive a refund of the purchase price (minus any shipping and handling).
Q:Why Is Omega Xl Not Approved by the FDA?
A. Many people always has a doubt Is Omega XL Fda Approved or not? Omega XL is a dietary supplement and it does not require U.S. Food and Drug Administration (FDA) approvals because dietary supplements can be sold and marketed without taking FDA approvals. But Drugs like NSAIDs have to be approved by FDA.
Q: Is Omega Xl Safe for Diabetics?
A. People with type 2 diabetes "should not be encouraged" to take omega-3 fish oil supplements, researchers from the University of East Anglia say. There had been some concerns that omega-3 could harm people with the condition.
Q: Where Can I Buy Omega XL?
A. Omega XL can be bought from the official website without a prescription, or it is also available at Amazon, Walmart, eBay, etc. But the Omega XL price may vary. The product is sold as soft gel capsules in a 60-count bottle that will last you approximately one month.
Q:Is Omega XL Sold in Stores?
A. Omega XL is not available at physical stores however people can buy Omega XL at online stores like Amazon, Walmart, Ebay etc.
YOU MAY ALSO LIKE – Relief Factor and Arthrozene
Q:What Are Omega Xl Side Effects?
A.Omega XL may cause common side effects like nausea, headaches, allergic reactions, fishy burps, diarrhea. It doesn't interact with blood thinner medications despite containing EPA and DHA, which are known to interact with blood thinners. You should check with your physician before starting this supplement if you are taking other medications.
How We Researched & Rated
Here is our score, based on scientific evidence, of how likely Omega XL will be effective for its claimed benefits:
Reduces Arthritis Pain*

3.7/

5

Support Overall Joint Health*

3.8/

5

Support Heart Health*

3.7/

5

Contains essential oils*

3.8/

5
We used the insights from our research and testing to assign a star rating from one to five (five being the best; one being the worst) to this product.
Omega XL Customer Reviews
Omega XL reviews consumer reports indicate that reviews on omega xl have 29,418 total ratings, 2,927 with reviews on a global level on Amazon, With various range of mixed opinions on omega xl.
I recently tried the Omega XL supplement and I must say is omega xl good for arthritis. After taking the supplement for a few weeks, I noticed that my joint pain and stiffness had decreased significantly. I also found that my energy levels were much higher and I felt overall much more energized. Also, you will not get any side effects from omega xl. ~ Michell
Omega XL Reviews Conclusion
In conclusion, we can say that Omega 3 fatty acids are nothing new in joint care. They use it widely to reduce inflammation and relieve joint pain. Generally, fatty acids are safe and relatively effective.
Above all, for longer-term effectiveness consider pairing a joint pain relief medicine with minerals that support bones and muscles. KrillMD can be a wonderful choice to explore if you're seeking a joint supplement that contains omega-3 fatty acids. See what we consider after using this supplement for ourselves by reading our review of KrillMD.
Also, our another top pick is Projoint Plus supplement which does not contain Omega 3 nutrients but have the power glucosamine and other powerful joint nutreints in it, visit our projoint plus reviews.