What Is Kirkland Triple Action Joint Health?
Kirkland Triple Action Joint Health is a dietary supplement designed to provide bone, joint, and cartilage support. It also supports joint mobility and flexibility without major side effects. Users are advised to take one tablet every day with or without food for fast results. Anyone can use this supplement. Its ingredients are powerful and are backed by several clinical studies.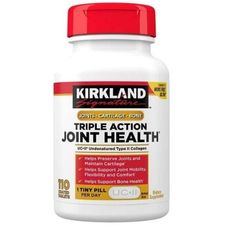 Editor's Rating
Kirkland Action Joint Health
Its ingredients, such as Hyaluronic acid, UC II collagen, and Boron work together to support joint flexibility, mobility, and comfort.
Buy on AmazonBuy on Walmart*All the prices mentioned on their websites are subject to change.
Specs
Form:

Capsules

Brand:

Kirkland Signature

Name:

Kirkland Triple Action Joint Health

Price:

$29.64

Ingredients:

Boron, Hyaluronic Acid, Type II Collagen

Contact:

[email protected], 1-877-541-4855

Unitcount:

110 Capsules

Serving Size:

1 Capsule
Who Is The Manufacturer Of Kirkland Action Joint Health?
This supplement is manufactured by Kirkland Signature. According to the company, the effectiveness of this supplement is attributed to its patented and special type II collagen.
This type of collagen is said to be in a position to multitask and is undenatured. Most collagens are easily denatured by chemicals and heat rendering them inactive. Since this collagen is undenatured, it is able to maintain its effectiveness and biological activity.
How Does Kirkland Action Joint Health Work?
Kirkland Signature Triple Action Joint Health works differently than glucosamine and chondroitin supplements. The main ingredient is collagen, a major component of joint cartilage. Collagen helps to maintain the structural integrity of joint cartilage, and it also helps to reduce pain and inflammation. The other two ingredients are Hyaluronic acid and Type II Collagen, both of which help to lubricate and cushion the joints and reduce pain and inflammation.
Pros and Cons Of Kirkland Triple Action Joint Health
Pros
It can help preserve your joints
It may help maintain healthy cartilage
It may support joint mobility and flexibility
It can support bone health
Cons
You can only buy this product online
Its effectiveness might be exaggerated
Kirkland Triple Action Joint Health Ingredients – Are they Safe & Effective?
The supplement contains type II collagen, a protein found in cartilage. It uses a unique stabilization process to preserve the type II collagen intact. The joints also contain hyaluronic acid and boron. All these ingredients are contained in this supplement and work together to provide a broad range of benefits.
Here are the ingredients contained in this supplement:
Type II Collagen
– Several studies have evaluated the efficacy of native Type II collagen for joint pain relief in patients with osteoarthritis and rheumatoid arthritis[1].
Hyaluronic Acid
– Studies have shown that it can reduce pain and improve joint function in people with osteoarthritis. Additionally, it has been found to be well-tolerated with few side effects[2].
Boron
– The studies suggest that boron may be a safe and effective treatment for some forms of arthritis, but more research is still needed to confirm its efficacy[3].
Kirkland Triple Action Joint Health FAQ's
Q.What are the Possible Side Effects of Kirkland Action Joint Health?
A.Possible side effects of taking Kirkland Action Joint Health include constipation, diarrhea, nausea, abdominal pain or cramps, drowsiness, headache, dizziness, and rash.
Q.Who Should Take Kirkland Triple Action Joint Health?
A.Kirkland Triple Action Joint Health is suitable for adults who want to support joint health and function.
Q.What Is the Recommended Dosage of Kirkland Triple Action Joint Health?
A.You should take two tablets daily, with or without food. It is best to take the tablets at the same time each day.
How We Researched & Rated
Here is our score, based on scientific evidence, of how likely Kirkland Triple Action Joint Health will be effective for its claimed benefits:
Helps Preserves Joints*

3.6/

5

Maintain Cartilage Health*

3.5/

5

Triple Action Formula*

3.6/

5

Helps Support Bone Health*

3.7/

5
We used the insights from our research and testing to assign a star rating from one to five (five being the best; one being the worst) to this product.
Kirkland Triple Action Joint Health Customer Reviews
I have given Kirkland Triple Action Joint Health for several years. I take it as well as my dogs. None of us shows any signs of arthritis and I think this plays a big part. ~ Jeffery L. Richardson
Kirkland Action Joint Health Reviews – Conclusion
This dietary supplement can promote joint health by allowing you to enjoy life. Also, it has potent ingredients that may help improve the health of your bones and cartilage.
It contains undenatured type II collagen, which is multi-functional. This ingredient is said to help preserve the joints and maintain proper cartilage functionality.
It might also help support joint flexibility, comfort, and mobility. It also has other ingredients, Boron and Hyaluronic Acid, which have been shown to help support bone health. Check out our reviews on another joint supplements brand like GNC, read our GNC Triflex Reviews.
It is important to bear in mind that individual results might vary. Moreover, consider consulting with your health provider prior to starting this supplement. Remember that the descriptions and statements in this review are provided by the manufacturer and haven't been evaluated by the FDA. Also, the product isn't meant to diagnose, cure, treat, or prevent diseases.
Therefore, be extra careful when using it and other similar supplements.
This supplement is gluten-free and doesn't contain shellfish among other harmful ingredients. You are advised to take one pill per day with or without food for best results.
Bones are connected by joints, which allow us to move with ease. Joint damage can cause pain preventing you from doing the things you once loved. Many conditions lead to joint pain from aging to an untreated sports injury. A quality joint product may help repair existing tissue damage and also promote stronger joints, less susceptible to future degeneration.
Below you'll find some of the most effective joint pain supplements on the market today, in our opinion.
Our Top Joint Pain Relief Products
Bottom Line
ProJoint Plus supplement is worth considering based on the available information, as it ensures joint mobility levels are improved and restored. The potent ProJoint formula includes powerful proven, quality ingredients in their optimal amounts, including the powerful, backed pairing of Glucosamine & Chondroitin, and there have never been any reports of harmful side effects from customers.
Check Price
Bottom Line
Joint N-11 is an all-natural dietary formula that works to alleviate pain and inflammation. This cutting-edge formula delivers pure Niacinamide, which is clinically shown to help protect joint tissue.
Check Price
Bottom Line
1MD MoveMD delivers clinically studied ingredients in one revolutionary joint health solution to help reduce joint discomfort in as few as 7 to 14 days. It uses lab-tested and proven ingredients and is suitable for both genders of all ages.
Check Price
3 Sources
We review published medical research in respected scientific journals to arrive at our conclusions about a product or health topic. This ensures the highest standard of scientific accuracy.
[1] Bakilan F, Armagan O, Ozgen M, Tascioglu F, Bolluk O, Alatas O. Effects of Native Type II Collagen Treatment on Knee Osteoarthritis: A Randomized Controlled Trial. Eurasian J Med. 2016 Jun;48(2):95-101. doi: 10.5152/eurasianjmed.2015.15030. PMID: 27551171; PMCID: PMC4970562.
[2] Migliore A, Procopio S. Effectiveness and utility of hyaluronic acid in osteoarthritis. Clin Cases Miner Bone Metab. 2015 Jan-Apr;12(1):31-3. doi: 10.11138/ccmbm/2015.12.1.031. PMID: 26136793; PMCID: PMC4469223.
[3] Newnham RE. Essentiality of boron for healthy bones and joints. Environ Health Perspect. 1994 Nov;102 Suppl 7(Suppl 7):83-5. doi: 10.1289/ehp.94102s783. PMID: 7889887; PMCID: PMC1566627.

**This is a subjective assessment based on the strength of the available informations and our estimation of efficacy.
*Result may vary. If you are pregnant, nursing, have a serious medical condition, or have a history of heart conditions we suggest consulting with a physician before using any supplement. The information contained in this website is provided for general informational purposes only. It is not intended to diagnose, treat, cure, or prevent any disease and should not be relied upon as a medical advice. Always consult your doctor before using any supplements.
Disclosure of Material connection: Some of the links in the post above are "associate sales links." This means if you can click on the link and purchase an item, we will receive a commission. Regardless, we only recommend products or services which we use personally and/or believe will add value to our readers. We are disclosing this in accordance with the Federal Trade Commission's 16 CFR, Part 255: "Guides Concerning the Use of Endorsements and Testimonials."