What Is Joint Movement Glucosamine?
Joint Movement Glucosamine is a dietary supplement that claims to restore joint mobility and joint health in a short period. The product comes in liquid form that is easy to take and digest.
Joint Movement Glucosamine is readily available over the counter without a prescription. The product is available at leading retailers worldwide.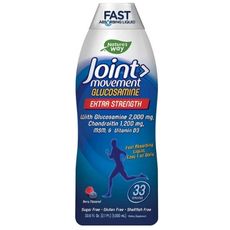 Editor's Rating
Joint Movement Glucosamine
Joint Movement Glucosamine is touted as an all-natural supplement that is made using the best natural ingredients.
Buy on amazonBuy on Walmart*All the prices mentioned on their websites are subject to change.
Specs
Form:

Liquid

Brand:

Nature's Way Wellese

Name:

Joint Movement Glucosamine

Price:

$18.49

Ingredients:

Chondroitin, Glucosamine, Hyaluronic acid

Contact:

1-800-9NATURE (1-800-962-8873)

Volume:

480 ml

Serving Size:

2 Tablespoons
Who Is The Manufacturer Of Joint Movement Glucosamine?
The product is manufactured by Wellese. Wellese is a company that is a branch of Nature's way. This is a company that has been producing liquid supplements for 25 years. We have several liquid products that are made by this company.
How Does Joint Movement Glucosamine Work?
Joint Movement Glucosamine is a long-time care product that is designed to work slowly to restore and improve your joint health. In this light, Joint Movement Glucosamine works to restore healthy joints by reducing inflammation that causes pain and swelling in the joints. It packs natural ingredients that are known to inhibit proteins and enzymes that cause inflammation. On the other hand, Joint Movement Glucosamine packs cartilage-regenerating ingredients that restore damaged and worn-out cartilage.
This is important to help joints recover from injury and surgery. With this in mind, you should take Joint Movement Glucosamine for several weeks in order to achieve the desired benefits.
Joint Movement Glucosamine Ingredients – Are they Safe & Effective?
The ingredients that are used in this product are;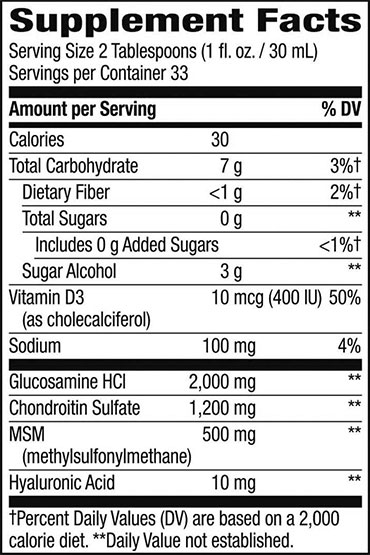 Glucosamine

–
Several studies have been conducted to investigate the potential benefits of glucosamine for joint pain relief. A 2018 review of previous research found that treating knee or hip osteoarthritis with glucosamine and chondroitin led to small improvements in pain scores and physical functioning scores[1].

Chondroitin Sulphate

–
Chondroitin is highly hygroscopic and thus promotes joint lubrication by attracting fluids to the joints.

Vitamin C

–
There have been several studies examining the effects of vitamin C on joint pain, with many showing positive results. For example, a 2011 study in the journal Public Health Nutrition found that vitamin C supplementation had a protective effect on knee osteoarthritis, reducing the risk of incident and progressive knee osteoarthritis[2].

Hyaluronic acid (HA)

–
Studies have shown that hyaluronic acid injections can be an effective and safe treatment for joint pain caused by osteoarthritis[3].
Pros and Cons Of Joint Movement Glucosamine
Pros
Could help maintain healthy joints
May support joint cartilage and flexibility
Joint Movement Glucosamine is made from natural ingredients that are safe to use and effective
Cons
It is not fortified with vitamins
The producers have not published results of the clinical trial studies
Joint Movement Glucosamine FAQ's
Q.What Is The Dosage Of Joint Movement Glucosamine?
A.The recommended dosage is two tablespoons every day. Joint Movement Glucosamine can be added to drinks and meals or taken directly.
Q.What Are Joint Movement Glucosamine Possible Side Effects?
A.There are no known side effects of this product. All the same, you should be very careful while taking this product especially if you are taking medication or if you are suffering from any condition. If you are pregnant or breastfeeding, consult your caregiver prior to taking this product.
Q.Does Joint Movement Glucosamine Interact with Other Medications?
A.Yes, Joint Movement Glucosamine may interact with other medications. It is important to check with your doctor or pharmacist before taking Joint Movement Glucosamine to ensure that it does not interfere with any medications that you may be taking.
How We Researched & Rated
Here is our score, based on scientific evidence, of how likely Joint Movement Glucosamine will be effective for its claimed benefits:
Promoting Overall Health*

3.7/

5

Reducing Arthritis Pain*

3.6/

5

Reducing Joint Inflammation*

3.7/

5

Lubricating Joint Movement*

3.6/

5
We used the insights from our research and testing to assign a star rating from one to five (five being the best; one being the worst) to this product.
Joint Movement Glucosamine Customer Reviews
Joint Movement Glucosamine stuff really works for me. I have a torn meniscus in my knee and this product helps a lot. I don't feel constant twinges when getting up or turning my knees when taking it daily. I'm not oohing all the time either. My knees will let me know when I've missed doses. You won't go wrong in purchasing it. ~ J. Nykerk
Joint Movement Glucosamine Reviews – Conclusion
Joint Movement Glucosamine is, without a doubt, a strong product. It packs some very powerful ingredients that are common in joint care. All the same, Joint Movement Glucosamine lacks some critical vitamins and minerals that we have found very useful in joint care.
We have reviewed some products that are more powerful and cheaper than this product. Feel free to check out some of the other products we have reviewed.
Bones are connected by joints, which allow us to move with ease. Joint damage can cause pain preventing you from doing the things you once loved. Many conditions lead to joint pain from aging to an untreated sports injury. A quality joint product may help repair existing tissue damage and also promote stronger joints, less susceptible to future degeneration.
Below you'll find some of the most effective joint pain supplements on the market today, in our opinion.
Our Top Joint Pain Relief Products
Bottom Line
ProJoint Plus supplement is worth considering based on the available information, as it ensures joint mobility levels are improved and restored. The potent ProJoint formula includes powerful proven, quality ingredients in their optimal amounts, including the powerful, backed pairing of Glucosamine & Chondroitin, and there have never been any reports of harmful side effects from customers.
Check Price
Bottom Line
Joint N-11 is an all-natural dietary formula that works to alleviate pain and inflammation. This cutting-edge formula delivers pure Niacinamide, which is clinically shown to help protect joint tissue.
Check Price
Bottom Line
1MD MoveMD delivers clinically studied ingredients in one revolutionary joint health solution to help reduce joint discomfort in as few as 7 to 14 days. It uses lab-tested and proven ingredients and is suitable for both genders of all ages.
Check Price
3 Sources
We review published medical research in respected scientific journals to arrive at our conclusions about a product or health topic. This ensures the highest standard of scientific accuracy.
[1] Do glucosamine and chondroitin supplements actually work for arthritis? - Harvard Health. (2016). Retrieved 28 January 2023, from https://www.health.harvard.edu/blog/the-latest-on-glucosaminechondroitin-supplements-2016101710391
[2] Altman R, Hackel J, Niazi F, Shaw P, Nicholls M. Efficacy and safety of repeated courses of hyaluronic acid injections for knee osteoarthritis: A systematic review. Semin Arthritis Rheum. 2018 Oct;48(2):168-175. doi: 10.1016/j.semarthrit.2018.01.009. Epub 2018 Jan 31. PMID: 29496227.
[3] Peregoy J, Wilder FV. The effects of vitamin C supplementation on incident and progressive knee osteoarthritis: a longitudinal study. Public Health Nutr. 2011 Apr;14(4):709-15. doi: 10.1017/S1368980010001783. Epub 2010 Aug 16. PMID: 20707943.

**This is a subjective assessment based on the strength of the available informations and our estimation of efficacy.
*Result may vary. If you are pregnant, nursing, have a serious medical condition, or have a history of heart conditions we suggest consulting with a physician before using any supplement. The information contained in this website is provided for general informational purposes only. It is not intended to diagnose, treat, cure, or prevent any disease and should not be relied upon as a medical advice. Always consult your doctor before using any supplements.
Disclosure of Material connection: Some of the links in the post above are "associate sales links." This means if you can click on the link and purchase an item, we will receive a commission. Regardless, we only recommend products or services which we use personally and/or believe will add value to our readers. We are disclosing this in accordance with the Federal Trade Commission's 16 CFR, Part 255: "Guides Concerning the Use of Endorsements and Testimonials."