Introduction
1up Nutrition brands itself as a premium supplement brand that aims to help both sportsmen and women burn fat, build muscle, and increase strength and energy.
The line encourages a healthy lifestyle through a wide range of vitamins and supplements that include weight loss supplements and post-workout proteins. In precise, 1up nutrition greens are made of high-quality ingredients of open, properly dosed with no proprietary blends.
The supplements are manufactured in a GMP facility certified by the NSF. 1up Nutrition products are third-party tested and provide users with a 100% money-back guarantee.
How is 1up Nutrition Unique from the Competition?
1up Nutrition fairs are well compared to other brands and is quite distinctive as it provides customers with a number of benefits. The supplements not only promote energy and strength for workouts but also help you live a healthy lifestyle by enabling fat-burning.
The brand assists its users to track their nutrition and workouts through a free-to-access app. The app helps keep close track of your fitness which is important, especially for athletes.
Advertisement
*All individuals are unique. Your results can and will vary.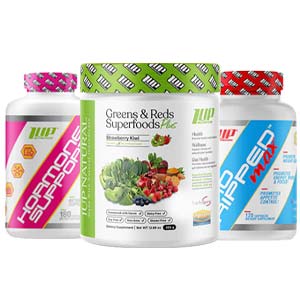 Editor's Rating
1up Nutrition
The 1up Nutrition greens and reds line designs vitamin-rich supplements that give better nutrition and exercise support.
Buy on WalmartBuy on Amazon*All the prices mentioned on their websites are subject to change.
Features and Rating
| Features | Current Status | Rating |
| --- | --- | --- |
| Reputation | Sound | 3.5/5 |
| Source | Safely sourced | 3.9/5 |
| Quality | Good | 3.7/5 |
| Price | Fair | 3.5/5 |
| Return Policy | Reliable | 3.8/5 |
| Usability | Easy | 3.5/5 |
Pros and Cons of 1up Nutrition
Pros
Claims to be a good source of protein
May help decreases workout recovery time
Encourage lean muscle growth and strength
Tastes better compared to other supplements
Contains different flavors
Cons
May contain more whey-based protein that can cause mild stomach issues
There is high demand for certain products hence may be out of stock
Some user may see below per results
Might not work instantly
Top Products
#1: Organic Vegan Protein – 900 grams
What it Does: Used for sports nutrition, protein meal replacement, and complementary ingredient in cooking as it contains sweeteners and flavorings.
Ingredients: Organic Non-GMO Protein Blend, Natural Flavors, Organic Coconut Oil, L-Glutamin Acid, Sodium, L-tyrosine, L-lysine
Price: $55.99
Pros
Contains various flavors such as chocolate, vanilla, banana
Soy free
Non – GMO ingredients
Great taste
Vegan friendly
#2: 1UP WHEY Protein
What it Does: Support muscle recovery, enhance strength and lean muscle growth
Ingredients: Cold Processed & Instantized Whey Protein Concentrate& Hydrolyzed Whey Protein Isolate, Peanut Flour, Sucralose, Sunflower Lecithin, Cross-flow Ultra & Nano-filtered
Advertisement
*All individuals are unique. Your results can and will vary.
Price: $50.99
Pros
No artificial color
Variety of flavors
Contains high-quality Protein
Best taste
Ultra texture
Cons
Not all flavors may work out well for everyone
#3: Kickstart
What it Does: Aids digestion, Enhances metabolism, the immune system, and supports healthy Inflammatory response
Ingredients: Organic Cayenne Pepper, Organic Turmeric Root, organic Ginger, Organic Lemon
Price: $50.99
Pros
Vegan approved
Contains organic ingredients
Non-Gmo
Soy free
Gluten-free
#4: Pure Rebuild
What it Does: Enables recovery from tough workouts, boosts strength, power, and endurance, and help build hard, lean, dense muscle
Ingredients: Vegan L-Glutamine, Electrolyte Complex, L-methionine, Betaine Anhydrous, Lysine, Creatine, L-Tryptophan, L-Histidine, EAA Complex, L-Phenylalanine, L-Threonine
Price: $50.99 but may reduce if you apply 1up nutrition promo code.
Pros
Promotes protein synthesis
Regulates electrolytes
Promote muscle building
Improve workout performance
Promote cellular hydration
Cons
Certain flavors have bad taste
#5: 1UP PRE Women
What it Does: Boosts energy, endurance, focus and, pump during workout
Ingredients: Pure L Citrulline, Beta Alanine, Caffeine Anhydrous, 1% Huperzine A, Theabromine, HMB- Anti-Catabolic, Nitrosigine, GBBECC, Infinergy, L-DOPA
Price: $55.99
Pros
All in one Pre-Workout
Saves on money
Helps to maximize energy, focus, and endurance
Has various flavors
No artificial color
Contains smooth consistency
Why Should You Buy This 1up Nutrition?
1up Nutrition supplements are multi-functional.
A promise of a 100% Money Back Guarantee
Vegan Friendly
No Artificial colors
Quality and purity of products are supposedly vetted through the lab tests
What is the Science of 1up Nutrition?
1up Nutrition products are made of premium quality ingredients that are properly dosed. The products are made with a non-proprietary formula which makes them unique.
According to a review by Alternative Medicine, whey protein may be used for therapeutic applications and to prevent certain health conditions.
The majority of the products contain amino acids derived from proteins which when combined with whey protein increase muscle strength and size.
Advertisement
*All individuals are unique. Your results can and will vary.
The high content of protein contained in 1up Nutrition pre-workout products makes it possible to cause loss of weight, especially when regularly consumed.
What Are the Ingredients in 1up Nutrition?
Taurine
It is an Amino acid found abundantly in the body's muscles. Taurine is known to increase muscle mass, and strength, reduce muscle damage and accelerate workout recovery.
It is essential to high athletic performance as it enables protein synthesis. Taurine helps individuals handle heavy weights during workouts since it boosts structural contractile ability.
Amino acids
1up Nutrition products contain three branches of amino acids. Amino acids are essential as they help in muscle building. The supplementation enables sportsmen and women to recover quickly from workouts as it boosts energy and endurance.
Studies show that branched-chain amino acids enhance exercise performance. The amino acids also decrease muscle soreness and fatigue.
Whey Protein
Whey is a high-quality protein that is easily digested and absorbed compared to other proteins. It is a natural nutritive protein since it is derived from milk.
Whey protein supplement has been proven to increase muscle strength and mass, and regulate body weight.
It also has antioxidant-rich components that boost immunity and prevent certain illnesses. Strength training coupled with high protein supplements is effective in the gain of muscle mass.
Caffeine Anhydrous
Caffeine anhydrous is a dehydrated compound of caffeine. It is an ergogenic aid shown to enhance muscular endurance, performance, and high-intensity training.
Caffeine also aids the loss of weight by enhancing the body's ability to burn fat.
Frequently Asked Questions (FAQs)
Q. Who Should Use 1up Nutrition?
A. 1up Nutrition whey protein is suitable for sports women and men who desire to build muscle mass, and strength, supplement protein levels and lose weight. When combined with intense training the supplement enhances the growth of muscles.
1up Nutrition is also suitable for individuals who require longer workout endurance and quicker relief of workout soreness.
Q. Where to Buy 1up Nutrition?
A. 1up Nutrition vitamins and supplements are readily available on the nutritional brand's website. The website provides informative and reliable information about the products with various discounts offered to purchase large quantities of the products.
1up Nutrition products are also available on other third-party websites such as Amazon. It is wise to buy the products from the brand's official website to avoid overpricing and counterfeits of the products.
Q. What is the 1up Nutrition Return Policy?
A. 1up Nutrition provides customers with a 30-day money-back policy once the customer is not satisfied with the products which is highly unlikely as the products are of high quality.
Q. Is 1up Nutrition Safe?
A. 1up Nutrition products are 100% safe as they contain high-quality ingredients, are lab tested, and properly dosed. The Safety of the products is assured by the FDA and inspected by the cGMP.
Q. Does 1up Nutrition Really Work?
A. 1up Nutrition products are effective as the ingredients are lab tested to fuel your body with energy, strength, and endurance during workouts.
How Does 1up Nutrition Compare with Other Brands?
Brand
Price
Key Features
Nutrex Research.
$26

High doses of ingredients
Contains various flavors
Expensive.

Force Factor
$20

Products are aimed at improving athletic performance
30day money back policy
Uses premium ingredients produced in cGMP facilities
What Do 1up Nutrition Reviews Say?
Customers are in love with 1up nutrition products especially due to the variety of flavors with amazing taste and smell. They seem satisfied with the pricing of most products. The products provide excellent protein supplements which most customers seem to prefer.
However, some 1up nutrition organic vegan greens reds superfoods reviews show that some customers complained of mild stomach issues such as stomach cramps due to the intake of whey-based protein.
Conclusion
Keeping fit with a healthy diet and exercise is essential for living a longer, healthy and happier life. 1up Nutrition models and products claim to enable sports women and men workout longer with increased strength and endurance. The products also enable an increase in lean muscle mass.
Nonetheless, although the line claims to feature amino acids and other key ingredients that may help decrease muscle fatigue, and alleviate muscle soreness, the user must still work out to see any benefits.
In other words, the brand prides itself of being high-quality ingredients based but proper doses must be observed to avoid unwanted side effects.
Lastly, 1up Nutrition products come in a variety of flavors with to help accommodate everyone's taste and preference.
Bones are connected by joints, which allow us to move with ease. Joint damage can cause pain preventing you from doing the things you once loved. Many conditions lead to joint pain from aging to an untreated sports injury. A quality joint product may help repair existing tissue damage and also promote stronger joints, less susceptible to future degeneration.
Below you'll find some of the most effective joint pain supplements on the market today, in our opinion.
Our Top Joint Pain Relief Products
Bottom Line
ProJoint Plus supplement is worth considering based on the available information, as it ensures joint mobility levels are improved and restored. The potent ProJoint formula includes powerful proven, quality ingredients in their optimal amounts, including the powerful, backed pairing of Glucosamine & Chondroitin, and there have never been any reports of harmful side effects from customers.
Check Price
Bottom Line
Joint N-11 is an all-natural dietary formula that works to alleviate pain and inflammation. This cutting-edge formula delivers pure Niacinamide, which is clinically shown to help protect joint tissue.
Check Price
Bottom Line
1MD MoveMD delivers clinically studied ingredients in one revolutionary joint health solution to help reduce joint discomfort in as few as 7 to 14 days. It uses lab-tested and proven ingredients and is suitable for both genders of all ages.
Check Price