Introduction
Welcome to our comprehensive review of Thermacare Heatwraps, the innovative pain relief solution that has been generating buzz among individuals seeking effective and convenient joint and muscle support.
In this article, we delve into the features, benefits, and user experiences of Thermacare Heatwraps, providing valuable insights to our readers. Join us as we explore this groundbreaking product and its potential to transform the landscape of pain management.
What is ThermaCare HeatWraps?
ThermaCare HeatWraps are clinical heat wraps designed to relieve muscle and joint pain. It is made of a soft material with hot generators such as iron, coal, salt, water.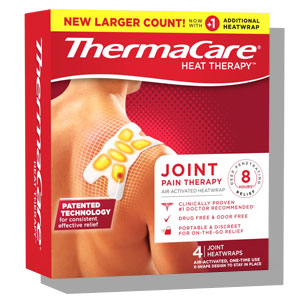 Editor's Rating
Buy on AmazonBuy on Walmart*All the prices mentioned on their websites are subject to change.
Sefety

3.8/5

Pricing

3.7/5

Ingredients

3.8/5

Non Gmo

3.6/5
Effective heat therapy with patented technology.
Targeted pain relief for specific areas.
Provides up to 8 hours of continuous heat.
Portable and discreet for use anywhere.
Drug-free and non-invasive pain relief.
When these materials are exposed to air, they generate heat, which in turn heats the packaging and provides heat that continues to heal for hours This relaxes the muscles, increases blood flow, gives back pain, neck pain, shoulder pain and menstrual cramps temporarily disappear[1].
Specs
Form:

Patch

Brand:

Pfizer Inc.

Contact:

1-800-323-3383

Product Name:

ThermaCare HeatWraps

Price:

$10.98

Ingredients:

Iron powder, Sodium chloride etc.
Who Is the Manufacturer of Thermacare Heatwraps?
The manufacturer of Thermacare Heatwraps is Pfizer Inc., an American multinational pharmaceutical company. Pfizer is known for producing a wide range of pharmaceutical products, including prescription medications, over-the-counter drugs, and various healthcare products like Thermacare Heatwraps.
How Does ThermaCare HeatWraps Work?
ThermaCare HeatWraps work by utilizing a chemical reaction triggered by exposure to air. The ingredients within the wrap, such as iron powder and charcoal, react with oxygen to generate heat. The wrap's design ensures even distribution of heat and provides targeted relief to muscles and joints.
Once applied, the wrap gradually reaches a therapeutic temperature, increasing blood flow and easing pain for several hours. It is essential to follow the instructions and avoid direct skin contact to prevent burns.
ThermaCare HeatWraps Ingredients – Are They Safe & Effective?
Patented Formula Of ThermaCare:
The patented formula of ThermaCare HeatWraps combines heat-generating ingredients like iron powder, charcoal, salt, and natural minerals to provide long-lasting, targeted relief for muscle aches and pains. This unique blend of ingredients works together to generate therapeutic heat that penetrates deep into the muscles, helping to relax and soothe discomfort effectively.
The patented formula of ThermaCare HeatWraps has been meticulously researched by Drugs.com. Backed by scientific studies[2], this innovative formula combines heat-generating ingredients to provide targeted pain relief and promote muscle relaxation. Its unique design ensures optimal comfort and effectiveness for long-lasting relief.
Pros and Cons of ThermaCare HeatWraps
Pros
Convenient and portable.
Drug-free pain relief.
Safe and easy to use.
Cons
Costly compared to other options.
Single-use only.
Potential skin sensitivity or irritation.
ThermaCare HeatWraps FAQ's
Q.What are the Directions of use?
A.To use the product, you wrap it around your skin right on the aching part. It is advised that you should check your skin every now and then to prevent the heat wrap from burning your skin. The producers warn that this product should not be worn while sleeping. In some instances, it should be worn only on top of clothes to avoid direct contact with the skin.
Q.Are there any Side Effects associated with ThermaCare HeatWraps?
A.Be careful while using this product since it can cause serious burns when used incorrectly. You should not overlap the heating cells as this might lead to overheating. Do not use it on children or people above 55 years as this adds to the risk of experiencing burns. In case you feel a painful burning sensation, remove the pad immediately and seek help from your caregiver.
Q.Is ThermaCare HeatWraps safe? Warnings & Complaints
A.The product is considered as safe to use and easy.
Q.Is ThermaCare HeatWraps easy to use?
A.Yes the product is very easy use as directed on product label.
Q.Is ThermaCare HeatWraps Sold in Stores?
A.You can buy this product on online stores like Amazon, walmart or product's official website.
Q.Do Thermacare Heat Wraps Work?
A.Thermacare heat wraps are designed to provide relief from muscle aches and pains. They work by generating heat to help relax and soothe the affected area, and many people find them effective in managing their pain.
Q.What Are the Side Effects of Thermacare Heat Wrap?
A.As of my knowledge cutoff in September 2021, Thermacare heat wraps were not discontinued. However, it's always a good idea to check with the manufacturer or local retailers for the most up-to-date information on product availability.
Q.Is It Ok to Sleep with Thermacare?
A.It is generally safe to sleep with Thermacare heat wraps as long as you follow the instructions provided. However, it is important to ensure that the wrap is not too tight and that it is properly secured to avoid any potential risks or discomfort during sleep.
Q.How Long Can You Wear Thermacare Heat Wraps?
A.The recommended usage duration for Thermacare heat wraps varies depending on the specific product. It is typically advised to wear the wrap for no more than 8 hours within a 24-hour period. It's important to read the instructions carefully and consult a healthcare professional if you have any concerns or specific medical conditions.
How We Researched & Rated
Here is our score, based on scientific evidence, of how likely ThermaCare HeatWraps will be effective for its claimed benefits:
Soothing sore muscles*

3.7/

5

Help relieve pain*

3.6/

5

Flexible enough to wear*

3.5/

5

Increases blood flow*

3.9/

5
We used the insights from our research and testing to assign a star rating from one to five (five being the best; one being the worst) to this product.
ThermaCare HeatWraps Customer Reviews
ThermaCare HeatWraps have received an average rating of 4.5 out of 5 stars from a total of 554 ratings on Amazon. With 64 customer reviews, these heat wraps have said to be a reliable and effective solution for soothing muscle pain and providing long-lasting heat therapy but figures dont show much trusted results.
"I misunderstood by believing that ThermaCare HeatWraps came in a multipack. Only one arrived. Most likely my mistake, but why so pricey? decent product Works reasonably good, although the glue may be improved." ~ Vanessa
Video Review
ThermaCare HeatWraps Reviews Conclusion
After thoroughly reviewing Thermacare heat wraps, our joint health magazine team has mixed opinions. While some members found the heat wraps effective in providing temporary relief for muscle aches and stiffness, others expressed concerns about the potential risks of prolonged heat exposure.
Further research and consideration of individual preferences and conditions are advised before making a decision on incorporating Thermacare heat wraps into your pain management routine. Despite the product being unique, we have reviewed other topical analgesics that will give this product a run for its money or you may check some other joint pain relief products.
Bones are connected by joints, which allow us to move with ease. Joint damage can cause pain preventing you from doing the things you once loved. Many conditions lead to joint pain from aging to an untreated sports injury. A quality joint product may help repair existing tissue damage and also promote stronger joints, less susceptible to future degeneration.
Below you'll find some of the most effective joint pain supplements on the market today, in our opinion.
Our Top Joint Pain Relief Products
Bottom Line
ProJoint Plus supplement is worth considering based on the available information, as it ensures joint mobility levels are improved and restored. The potent ProJoint formula includes powerful proven, quality ingredients in their optimal amounts, including the powerful, backed pairing of Glucosamine & Chondroitin, and there have never been any reports of harmful side effects from customers.
Check Price
Bottom Line
Joint N-11 is an all-natural dietary formula that works to alleviate pain and inflammation. This cutting-edge formula delivers pure Niacinamide, which is clinically shown to help protect joint tissue.
Check Price
Bottom Line
1MD MoveMD delivers clinically studied ingredients in one revolutionary joint health solution to help reduce joint discomfort in as few as 7 to 14 days. It uses lab-tested and proven ingredients and is suitable for both genders of all ages.
Check Price
2 Sources
We review published medical research in respected scientific journals to arrive at our conclusions about a product or health topic. This ensures the highest standard of scientific accuracy.
[1] Thermacare Heat Wraps Information from Drugs.com. (2023). Retrieved 8 July 2023, from https://www.drugs.com/drp/thermacare-heat-wraps.html#:~:text=INGREDIENTS,chloride%2C%20sodium%20thiosulfate%20and%20water.
[2] Navvabi Rigi, S., kermansaravi, F., Navidian, A., Safabakhsh, L., Safarzadeh, A., & Khazaian, S. et al. (2012). Comparing the analgesic effect of heat patch containing iron chip and ibuprofen for primary dysmenorrhea: a randomized controlled trial. BMC Women's Health, 12(1). doi: 10.1186/1472-6874-12-25

**This is a subjective assessment based on the strength of the available informations and our estimation of efficacy.
*Result may vary. If you are pregnant, nursing, have a serious medical condition, or have a history of heart conditions we suggest consulting with a physician before using any supplement. The information contained in this website is provided for general informational purposes only. It is not intended to diagnose, treat, cure, or prevent any disease and should not be relied upon as a medical advice. Always consult your doctor before using any supplements.
Disclosure of Material connection: Some of the links in the post above are "associate sales links." This means if you can click on the link and purchase an item, we will receive a commission. Regardless, we only recommend products or services which we use personally and/or believe will add value to our readers. We are disclosing this in accordance with the Federal Trade Commission's 16 CFR, Part 255: "Guides Concerning the Use of Endorsements and Testimonials."